The folks at
Made by Oranges
, based in the Netherlands, recently reached out to me to see if I wanted to try some of their sewing magazines,
My Image
and
B-Trendy
.
All of the patterns contain instructions in 5 languages (Dutch, German, French, Spanish and English). The patterns included in the magazine are heavily layered and overlapped, so they require tracing (think Burdastyle), and I noticed that the PDFs also require some tracing, too. They do not include seam allowances.
I'm going to focus on My Image today because women's patterns are my jam. I received
My Image issue #13
, which focuses on fall patterns, although some of them could be multi-seasonal depending on your fabric choice.
Let's talk about the size chart for My Image: the patterns run from size 34-52 (U.S. size 4-22), which is up to a 48.8" bust and 50" hip. However, I noticed upon closer inspection that not all of the patterns span the entire size range. It seems a little bit random, but some patterns are 34-52, some 36-50, some only up to a 48. So keep a close eye out to make sure the pattern you're looking at comes in your size! In issue #13, 6 out of 16 patterns go up to size 52, 5 only up to size 50 and 5 top out at size 48. Both PDF patterns go up to size 52. The third PDF pattern is a handbag. No finished measurements for the garments are provided.

There is a nice mix of simple and more complicated patterns in My Image, as well as a mix of traditional basics (examples: simple t-shirt dress) and funky modern patterns (dropped crotch track pants). There are patterns for 5 dresses, 2 skirts, 5 tops/sweaters/tunics, 3 pairs of trousers, a blazer/jacket, a coat, a coatigan, and a handbag. Have a look at the video below in which I leaf through issue #13:
The magazine does not have any stories or articles; it's truly a pattern magazine, full of photos of the patterns, the patterns themselves, and the instructions. The photos in the magazine are lovely- the coordinated fabrics are visually appealing and I love that each pattern is shown sewn up in several different fabrics. I did find, however, that the fabric choices (lots of prints) sometimes obscured the design lines (there are technical pattern drawings, though, so no worried). The instructions seem fairly minimal and mainly narrative, but do include fabric layouts as well as diagrams for the more complicated steps, such as welt pockets or sleeve plackets.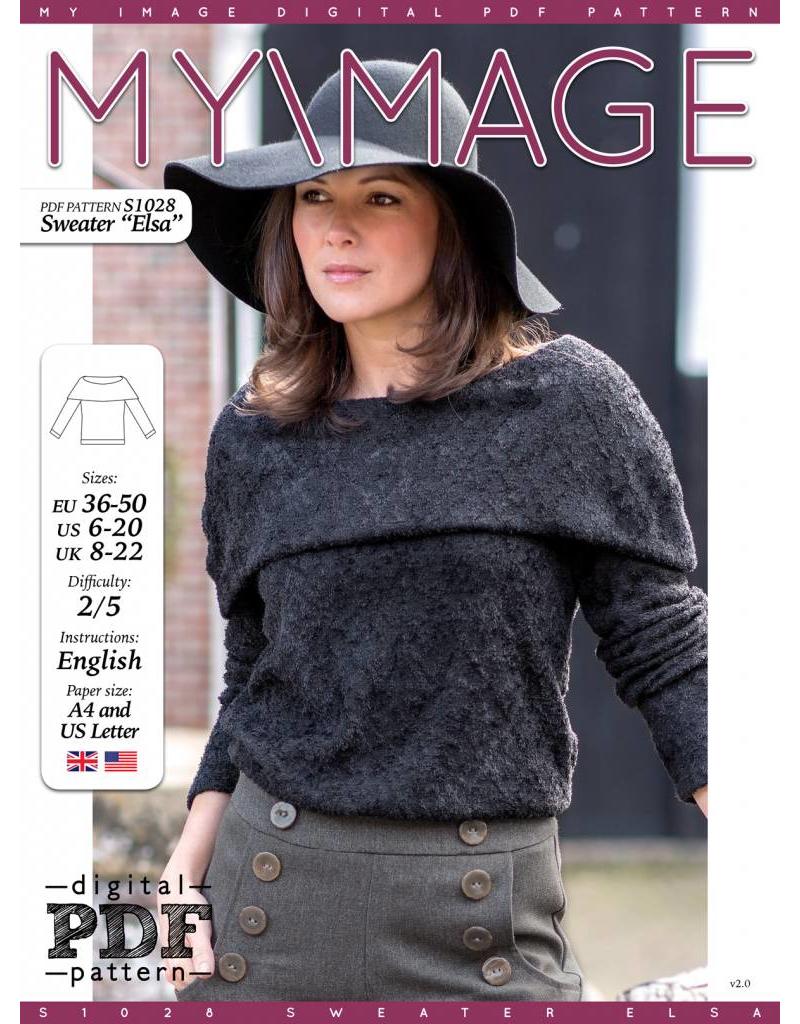 I chose to make the
Elsa Sweater
, an on-trend off-the-shoulder sweater pattern that is available in the magazine and as a PDF pattern (currently free, see below!). I was attracted to this pattern because it seemed to be not too off the shoulder... sort of a nod to the trend, but more wearable in my perspective. Does that make sense? All the versions in the magazine are quite lovely. The style is a bit outside of my typical comfort zone, so somewhat of a risk, but worth a try!
Rather than trace from the magazine, I opted to print the 9-page PDF and trace from that, figuring if I had to trace, I might as well simplify it for myself a bit. I still went a bit cross-eyed tracing, probably because I'm not used to it, but highlighting the lines helped. The pattern provided measurements to draft your own rectangular cuffs and hem band.
For the Elsa Sweater, the fabric suggestions ("Suggested fabrics: Use stretchable fabric! - Knitted fabric") and fabric amounts ("Fabric usage: 205-205-210-210-210-210-210-210 cm.") left me with some questions (how stretchable should the knit be? what width fabric?), but based on the photos in the magazine, I decided I needed a thicker, less stretchy knit to achieve the proper look for the neck/shoulder pieces. I opted for some magenta ponte. Based on laying out the pattern pieces as instructed, it appears that the fabric needs to be 60" wide.
Some of the instructions for the Elsa sweater used some odd phrasing and were quite sparse, but were generally fine. I think there was a mistake for the hem band- the measurements have you draft a pattern piece for the whole band, but then the cutting layout shows it cut on the fold. I deviated a little bit from the instructions by sewing the sleeves in flat, rather than in the round.
I cut a size 46 and shortened the sleeves to 3/4 length; I held the sleeve pieces up against my Cashmerette Appleton sleeves for comparison and cut 4" off the bottom. Then, after trying the sweater on, I opted to use my twin needle to hem the sleeves and body by 3/4", without the hem band, as they were plenty long as is.
In the end, I have mixed feelings about the top... the fit is fine, maybe a little bit big. And, as
Gillian said
, the armscye seems quite long, which is causing a little bit of weirdness under the arm and at the bust.
My main problem, though, is that the shoulder cowl/collar piece is just not the right shape for my shoulders, obviously. The curve is just all wrong. It's too big for my shoulders (not really the top of the shoulders, but the side?) causing it to sag and look sad. No amount of ironing on the ham seems to help- there's just too much extra room there and the fabric drapes in a lumpy, unflattering way. It's almost like I need to wear askew
football shoulder pads
to fill it out? I don't know whose side shoulders would fill this out. I wonder if it would work better in a stiffer fabric? Then again, I worry in a stiffer fabric I would look line a linebacker, or
Tina Turner in the Thunderdome
! I haven't decided how/if I'll try to fix it.
That said, I'm not going to let my mixed feelings about this sweater stop me from trying another My Image pattern- so many cute options! I really like the track pants and the sailor-style trousers, too. And there's a coat and coatigan that are pretty lovely.
If the magazine or patterns tempt you, too, lucky you! Made by Oranges provided me with a discount code to share with you:
if you use the code "Meg" you can get a 25% discount on all products from Made by Oranges
, including individual magazines, PDF patterns and magazine subscriptions.
The code is valid through December 1
.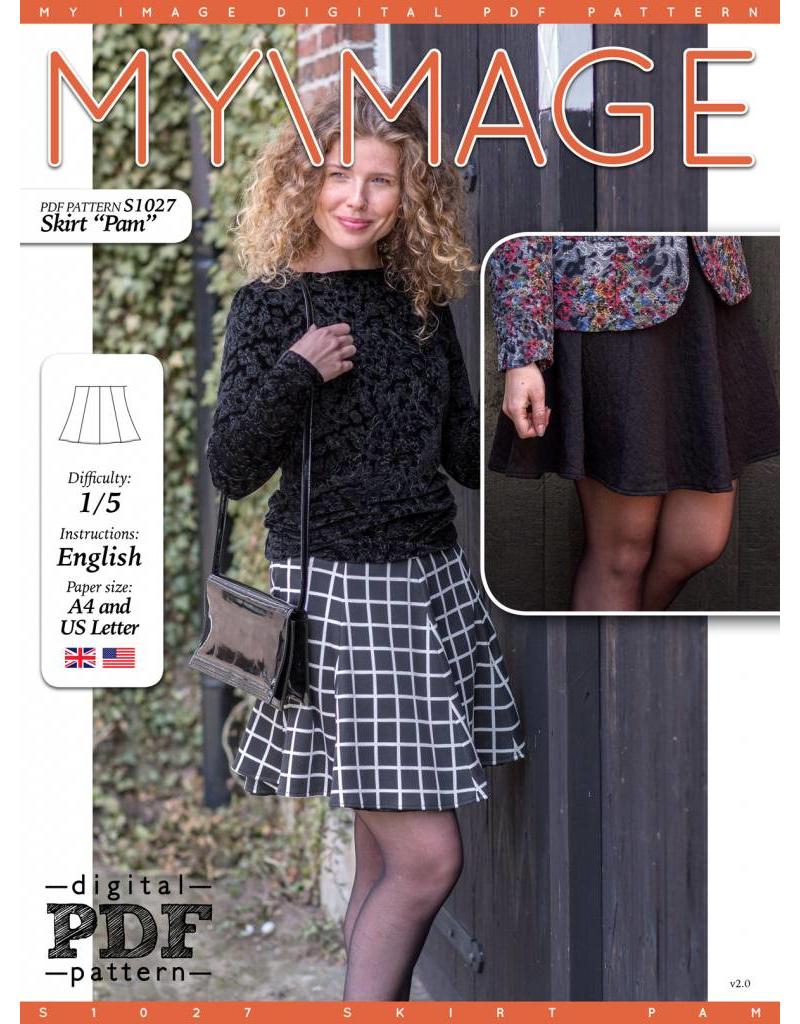 Thanks for Made by Oranges for letting me try out these magazines!